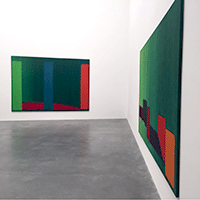 John Hoyland: Power Stations Paintings 1964 –1982 8 OCT 2015 – 3 APR 2016
Newport Street Gallery, London
I recently visited Damian Hirst's latest's creative venture, the newly opened Newport Street Gallery, for the exhibition 'Power Stations' by the late John Hoyland. The show has been curated in chronological order and spans work from 1964 until 1982, from Damien Hirst's personal collection. As a painter, and someone who is not new to John Hoyland, I have to say that I was visually blown away and it is certainly not a show to be snubbed. John Hoyland was born in Sheffield and studied at the Royal Academy. His work was influenced by the great American abstract painters like Rothko and Barnet Newman. He was regarded as one of the great British abstract painters of his generation.

For me the show was screaming the 'painters' painter' and at first glance the paintings dominate the space considering the size of the work is on a grand impressive scale. It feels almost as if the architecture of this warehouse gallery conversion was made for this show. The white wall spaces offer the paintings room to breath and allow you to really get to grips with Hoyland's practice. You see an insight into his workings in the studio, his critical thinking in the stuff of paint and his attention to the canvas surface. In considering the relationship between the gallery and the work, most pleasing to me was the height of the gallery ceilings as it allowed you to re-live the artist's engagement with the work; you can imagine the spinning and turning of the canvas and observe the drips of paint flow with the gravitational pull.

Hoylands vibrant choices in colour emanates through the bright white gallery spaces. His combination of colour excites me, the most impressive room in my opinion contained four large canvass painted in 1966. The paintings are built up in washes of acrylic hues of greens overlaid by geometric shapes of reds, oranges, blues and florescent tones of green. I found these combinations of colour an attack on my visual senses as the juxtaposing colour interacted with one another. In much of Hoyland's work he uses block shapes of colour and one can say that title of the show 'Power Stations' lends itself to the work and suggests that within Hoyland's paintings the squares, lines, rectangles and triangles are an element of figurative influence in the form of architecture.

Hoyland's dedication to his practice and as someone who loves paint is evident. He is, and I say it again, a 'painters painter'. You look at his canvas surface, you see the working out, the marks, the scores and see a man not scared to take risks when taking on a large bare canvas.